Why choose Australia?
Australia is one of the most remote countries in the world and has a surface area of over 7,692,000km2, showing diverse natural habitats and an incredible wildlife.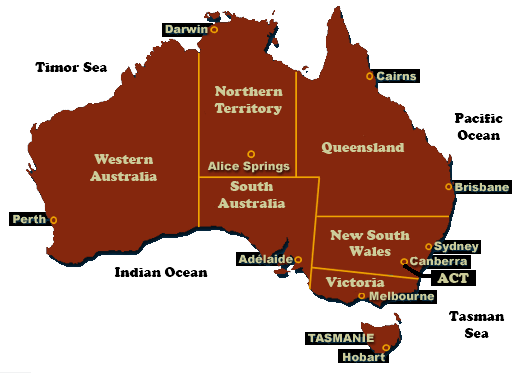 Australia has a resident population of over 24 million of people and 57.5% lives in the 10 major cities, while the remaining is spread across its rural and remote areas, representing over 99% of the country land mass.
Australia is proud of its multi-culturalism, which comes from its unique history that has shaped the diversity of its people, their cultures and lifestyles today. It is one of the most culturally and linguistically diverse population in the world.
Three major contributors to Australia's demographic are :
A diverse Indigenous population,
A British colonial past,
An extensive immigration from many different countries and cultures.
1 out of 4 Australians was not born in Australia, which means they proudly made the decision to become a citizen.
It is true that Australia offers an incredible quality of life and its inhabitants are amongst the richest people in the world. However, Australia is much more than a fantastic place to live, it is also a unique location for:
  Why choose a migration agent?
Australia regulates its borders by requiring all non-citizens, who wish to travel or remain in Australia, to have a valid visa. In other words, anyone who is not an Australian citizen needs a visa that is in effect to lawfully enter and remain in Australia. There are over 100 visa subclasses in the Australian legislation and, therefore, it is a valuable approach to seek the expertise of a migration agent to have a critical assessment on the most suitable pathway, based on your present circumstances and immigration objectives.
Migration legislation is complex and multifaceted. Every single piece of information provided to the Department of Immigration and Border Protection ("DIBP") - voluntarily or not - has its importance, as it can impact your current and future visa applications.
In Australia, providing migration advice is an activity regulated by the Office of the Migration Agents Registration Authority ("MARA") and only a limited number of people can do so. More specifically, it is a legal requirement to be registered with the Authority to provide migration advice. Each registered migration agent had to complete a recognised university qualification, and is undertaking continuous professional training.
In addition, a registered migration agent must be a person of integrity and comply with the Code of Conduct, as well as the Australian Consumer guide. An updated list of all the registered can be found on the MARA website
  Why should you book an initial consultation?
While lots of information can be found on the Internet in general and on the DIBP website in particular, it doesn't replace an initial consultation with a migration specialist. As professional practitioners, MARA agents can access the Procedures Advice Manual used by the Department and have the practical experience in handling visa applications. 
Therefore, for the fee of an initial consultation, you will receive :
  - A pre-assessment of your situation, 
  - A discussion with a registered migration agent, which can last up to an hour, and
  - A written summary of all suitable migration pathways that were discussed.
During the initial consultation, we will discuss the different migrations options that are available based on your personal situation and professional background.
For each visa option, we will explain to you:
  - The different steps that need to be undertaken in order to lodge a complete application
  - The average processing time
  - All the costs involved (DIBP fees, medical examination, English test, police clearance, AXYN Solutions professional fees, ...)
In addition, after the consultation took place, you will receive a written report summarising all the options discussed. this will allow you to choose the most appropriate pathway with piece of mind.
Furthermore, if you decide to proceed with AXYN Solutions for your visa application within 30 days, the cost of the initial consultation will be deducted from our professional fees.*
* * * * *
If you are ready to start, click here to fill out our short questionnaire. Once we have reviewed your answers, we will contact you as soon as possible in order discuss the next steps.
* Conditions apply.